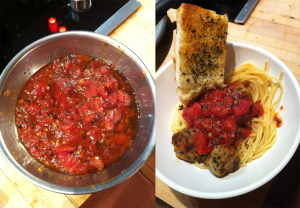 One of my favorite things to eat is italian food.  I love the taste of cooked down tomatoes.  I don't have time to cook tomatoes all day and the Mr. isn't as fond of them as I am. This the quickest recipe I have made up for pasta sauce that tastes like you have been in the kitchen for hours.
Ingredients:
1 Can Diced Tomatoes
4 Cloves Garlic
2 Tbsp. Olive Oil
1 tsp. Salt
1 tsp. Sugar
2 Tbsp. Basil & Oregano
A couple dashes of Balsamic Vinegar
Directions:
Put all ingredients into a pan.  Heat on medium heat until warm.  Adjust seasoning amounts to taste of course.